Netvrk And Moonfarm Finance To Bring Yield Farming Opportunities For Users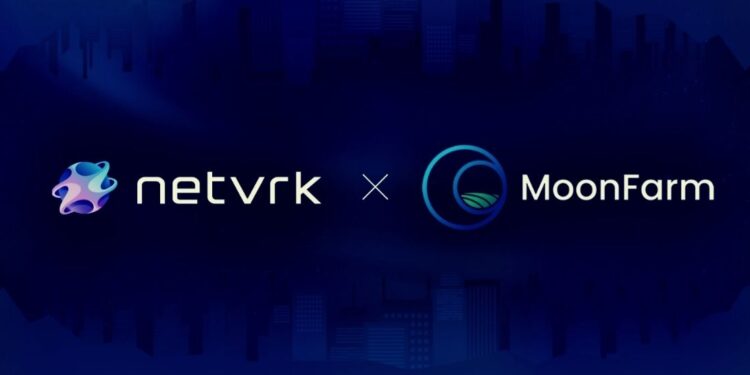 Netvrk, a metaverse built on the blockchain, has just announced that it has entered into a strategic partnership with Moonfarm Finance. Moonfarm Finance is a hybrid DeFi and CeFi yield farming aggregator. Through Netvrk, users can monetize their creations through the concept of virtual land ownership. 
Yield Farming Opportunities
The partnership will see Moonfarm Finance be featured in the Netvrk metaverse and virtual world and will allow users on the platform to interact with Moonfarm's DeFi and CeFi aggregation products, bringing yield farming opportunities to users.
A Hybrid Yield Farming Aggregator
Moonfarm acts as a DeFi and CeFi aggregator, providing users the best of both and offering them easy access, cost-effectiveness, rapidity, and transparency of DeFi yield farming. This is offered in addition to the security associated with centralized finance ecosystems.
It optimizes yield farming interest, giving users the ability to choose the farms they want to use. The system can also determine the best farming strategy by utilizing the yield optimization engine.
Advantages Of Moonfarm
Moonfarm uses a simple process that allows users access to DeFi farming with One Token Farming Pools. However, it has a significantly higher APR compared to other centralized exchanges and DeFi such as Autofarm and Belt Finance. It also does not feature any gas fee, impermanent loss, deposit fee, or withdrawal fee. Users can choose between different chains such as the Binance smart Chain, Polygon, Solana, and Ethereum. 
Considerable Excitement
There is, understandably, quite a bit of excitement around the announcement. Frank Dang, the Chief Growth Officer at Moonfarm Finance, stated,
"Netvrk is such an interesting project with a top notch artwork and huge upside potential, and I personally think that Netvrk will be a leader of VR platform in the near future. I believe that with this partnership, Moonfarm and Netvrk will bring another dimension of crypto farming for both projects' users. Farming inside a VR metaverse will be a very cool thing that blockchain users can experience."
Meanwhile, Daniel Kennedy, Chief Marketing Officer of Netvrk, added.
"We're very excited to be working with MoonFarm Finance and offering their CeFi and DeFi products to users in a virtual world environment. The multi-chain nature and innovative features of MoonFarm Finance will be wholly beneficial to the crypto community and Netvrk users."
Offering The Best Of DeFi and CeFi
Moonfarm can be described as Decentralized Finance and Centralized Finance hybrid yield farming aggregator. It offers its users the best of DeFi and CeFi that includes the easy access, transparency, cost-effectiveness, and rapidity of DeFi while offering security comparable to a centralized finance ecosystem.
A Social Virtual World
A social virtual world and platform that comes with powerful creation tools and an infrastructure that makes it easy to create, experience, share and monetize their creations. Netvrk focuses more on education, gaming, and virtual workplaces, which are built around virtual assets and land ownership.
Disclaimer: This article is provided for informational purposes only. It is not offered or intended to be used as legal, tax, investment, financial, or other advice.
Credit: Source link