Melania Trump wants to set up the Solana NFT platform and sell its own NFTs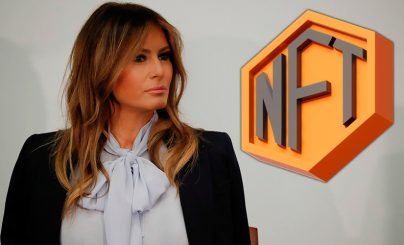 Former First Lady Melania Trump has confirmed the launch of her NFT platform and the sale of some of her artwork in the form of NFTs.
Despite the recent credibility problem regarding the scalability of the Solana network, the platform continues to attract celebrity customers. Melania Trump has announced that it will release a series of exclusive NFTs entitled "Melania's Vision" to be minted and sold on the Solana blockchain. She tweeted:
"I'm proud to announce my new NFT project, which embodies my passion for the arts and will support my ongoing commitment to children through my" Be the Best! "Initiative."
The sale of "Melania's Vision-NFTs" is scheduled to begin on December 16 and end on December 31, 2021. However, your team confirms that a unique piece is expected to be auctioned esrt in January 2022.
The announcement comes just days after the major controversy over the Solana network's credibility and its scalability. As we reported, alleged failures on the part of the platform were denied. Nonetheless, questions remain unanswered about the Proof-of-History (PoH) consensus, which promises a breathtaking 50,000 transactions per second.
More on the topic: Solana (SOL) founder firmly rejects claims about network congestion
Although the crypto community received Trump's initiative positively, some politicians see it as an action to help bring Donald Trump back to the White House. It has already reiterated its ambitions for the 2024 presidency, and Melania's initiative is her first public proposition since moving out of the White House.
NBA legend builds on Solana
Melania Trump is the second celebrity to join the Solana ecosystem this week. Just a few days ago, the Solana team confirmed that NBA legend Michael Jordan and his son Jeffrey M. Jordan are building a fan engagement app on the Solana blockchain. The platform, "HEIR" – "ERBE", has already raised 10 million dollars in seed capital and is due to be launched next year.
The involvement of the two well-known personalities should promote the reputation of the network as a powerful and credible platform and also promote acceptance among potential customers. In any case, investors have reacted to the latest news. At press time, SOL is up 4% and is now trading for $ 180. With a market capitalization of just over $ 55 billion, SOL now ranks fifth in the world, 30% off its all-time high. Experts have high hopes for SOL for 2022.