Elrond Network becomes carbon negative by offsetting more CO2 than the blockchain is responsible for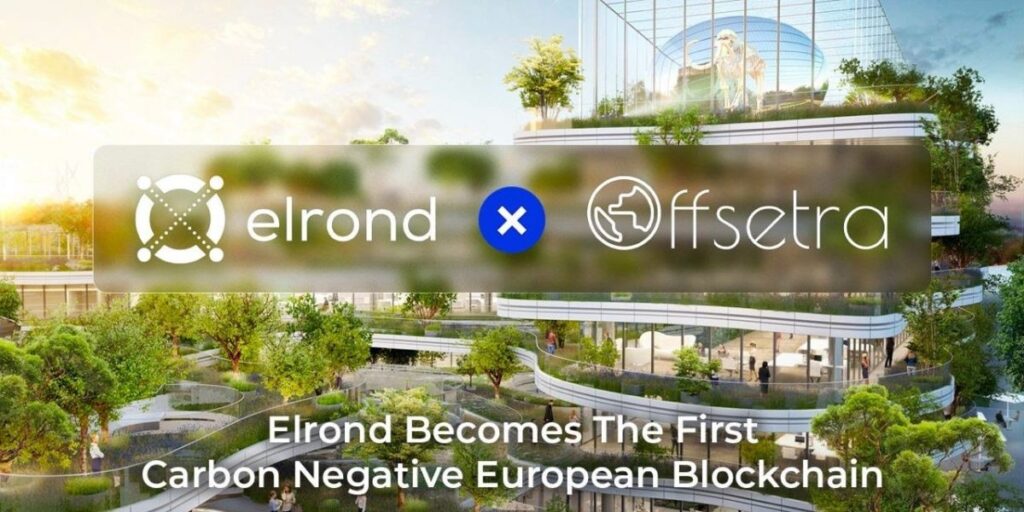 Elrond Network has become the first carbon-negative European blockchain by offsetting more carbon than the network accounts for. While announcing its latest achievement on the 5th of August, Elrond revealed that it partnered with Offsetra to offset more carbon than the network is responsible for. 
Elrond becomes the first carbon-negative European blockchain
Generally, blockchain technology is designed to attend to complex economic issues. However, the technology utilizes a high amount of energy while handling a small fraction of the internet's transactional needs. Research has shown that blockchain technology consumes more energy than an average-sized country.
On the other hand, Elrond Network demands lesser energy and offers improved execution speed. Meanwhile, the Elrond network's capacity of 15,000 transactions, scalable beyond 100,000 transactions per second (TPS), requires 6 million times less energy for transactions.
Elrond is living up to its mission of ensuring that its technology positively impacts the planet. The network's CEO Beniamin Mincu commented:
Humanity's ability to progress beyond what we thought possible not so long ago can continue only if we are conscious about our impact on the environment and the next generations. Climate change is a serious challenge, but one we can decisively solve if we act immediately.
Speaking further, the company's co-founder said that Elrond would continue to grow with the carbon offsetting. Also, the blockchain executive noted that the move would make Elrond a "fertile ground for this generation of innovators to seed the foundations of a digital network of trust for the generations to come."
Already, sustainability experts from Offset have performed an in-depth analysis of the Elrond blockchain carbon footprint. During the analysis, the experts examined over 5,000 servers across 30 countries and six continents. The network connecting the servers was also analyzed.
According to the press release, they observed 6M kg carbon footprint was offset "by retiring carbon units equivalent to 7.4M kg CO2, netting a 25 percent positive impact on the environment for the Elrond blockchain."
The Elrond project
The Elrond project was co-founded in 2017 and focuses on blockchain scalability. The company co-founders Lucia Todea, Benjamin Mincu, and Lucian Mincu came together to make Elrond the viable solution to the problem of blockchain scalability. 
Before founding Elrond, the Mincu brothers used to work on a digital asset investment fund called MetaChain Capital. Additionally, they both established ICO Market Data.
Majorly, Elrond tends to increase transaction speed via sharding. The Elrond coin (EGLD) powers the blockchain and was the second token launch on the Binance Launchpad.  
Credit: Source link