Karura Swap Goes live with trading, the first DEX on Polkadot's Kusama Ecosystem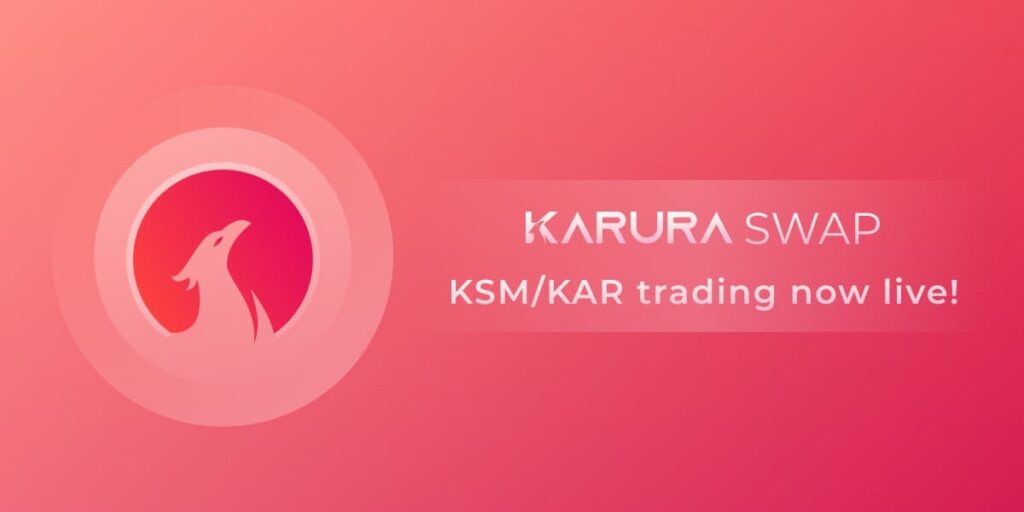 Thursday, July 23, Karura Swap – the first decentralized exchange (DEX) in the Kusama ecosystem – went live for trading. As a result, Karura Swap has opened up the trading pair KSM/KAR which currently has over $3.4 million in total value locked (TVL).
The initial liquidity for the KSM tokens was 9.7K KSM. Similarly, the initial liquidity for the KAR tokens was 433k KAR. There were over 1000 unique contributions with the opening exchange rate for KSM/KAR standing at 1KAR : 0.0225KSM.
The announcement also notes that for the first time, KSM was available for trading on the decentralized exchange (DEX). Besides, users can now pay the transaction fees on Karura in KSM using the Bring Your Own Gas feature along with the liquidity of the KSM/KAR trading pair.
Karura has contributed 501,000 KSM to its community-backed crowdloan and was the first a parachain slot on the Kusama blockchain. The official announcement notes:
With accessible KSM/KAR liquidity on Karura, users may now put their KSM to work, trustlessly swap, and prepare for the fast-approaching kUSD stablecoin loans, LKSM liquid staking, and liquidity mining programs.
Additionally, users can participate in trustless trading along with providing liquidity to Karura Swap. They can also prepare for the next releases on the launch roadmap.
DeFi enthusiasts have been eager to access Karura's customized protocols. This includes the kUSD stablecoin, the LKSM liquid staking derivative, and the AMM-style DEX.
Bootstrap – the key feature of Karura for better liquidity
An interesting feature of Karura Swap is that it has the ability to launch a trading pair in "Bootstrap" mode. This is nothing but a brief warm-up period that encourages a pool to attain adequate liquidity. This also helps in preventing frontrunning and kind of market manipulation activities.
Using "Bootstrap" Karura aims to empower trustless trading at a fair market rate. The official announcement explains:
On Karura, any given trading pair can be launched in the optional Bootstrap mode, which then invites users to secure a share of the pool and provide liquidity via one token, or with both tokens in the trading pair.

During bootstrap mode, trading is temporarily disabled for a specific time period until the predetermined liquidity requirements are met. Once the bootstrap period is complete, the exchange rate is made public and trading is enabled on Karura Swap.
The first trading pair KSM/KAR successfully managed to reach its liquidity goal while allowing the market to determine the accurate exchange rate.